I enjoy reading most everything and genre and one thing I love to read is plays. It benefits myself as an actor and a playwright to read other writers work. Having said that, it's surprising that my own work hasn't been published in a medium where anyone could just "read" it.
I have slowly been converting my material over to the print medium (usually I sent out a pdf file to theatre groups to perform -quick,easy and cheap) but for those who aren't wishing to perform anything, but would like to read - here are the printed versions of the plays available on-line for a low price.
Murder Me Always
My very popular, world traveled play about a murder mystery that occurs during a murder mystery.
Click
Here
For Details.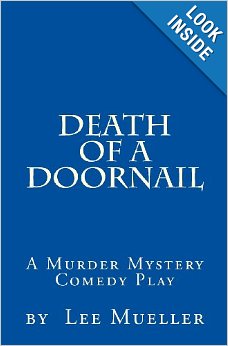 Death Of A Doornail
My other very popular, world traveled play. A tongue in cheek homage to drawing room murder mysteries with a twist.
Click
Here
For Details
Murder In Meridosa
My newest play. A western with cowboys, gunslingers, saloon gals and school marms. Chock full o' obscure film and tv references.
Click
Here
For Details
Last Call At Chez Mort
A 1940's Night Club with intrigue, gangsters, dames, a French guy and a creepy Russian with a hatchet. Not to mention, every 1940's phrase I could remember.
Click
Here
For Details!
For those you enjoy a quiet night, curled up - because apparently when one reads you must curl in some fashion - I usually sit, but hey that's just me, these are some titles for you. No acting or performance rights required.